Versatile Gift Packaging Items Perfect for Every Occasion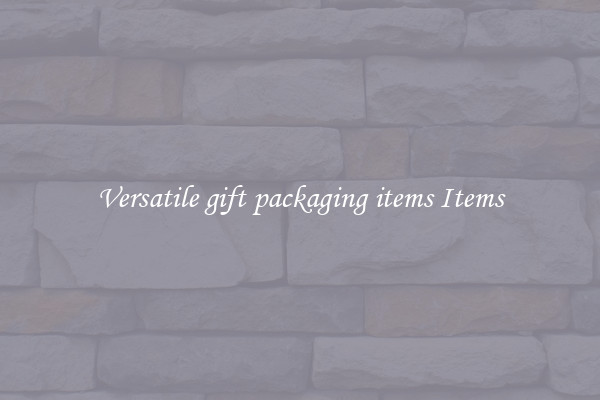 When it comes to gift-giving, the presentation is just as important as the gift itself. The right gift packaging can elevate any present, making it even more special and exciting to receive. To help you impress your loved ones, we have curated a list of versatile gift packaging items that are sure to make an impact on any occasion.
1. Gift Boxes: Gift boxes are a classic choice for any present. They come in various sizes, shapes, and designs, making them ideal for packaging a wide range of gifts, from clothing and accessories to small electronics. You can customize them with ribbons, bows, or even personalized messages to add a special touch.
2. Gift Bags: Gift bags are a convenient and reusable option for gift packaging. They come in various colors, patterns, and sizes, making it easy to find the perfect one for your gift. Gift bags are particularly great for odd-shaped gifts or those that require delicate handling, such as bottles or fragile items.
3. Wrapping Paper: Wrapping paper is a classic choice that never goes out of style. It comes in a myriad of designs, colors, and textures, allowing you to unleash your creativity and create a truly personalized gift. From simple and elegant to bold and festive patterns, wrapping paper can instantly elevate the presentation of any gift.
4. Tissue Paper: Tissue paper is an essential component of gift packaging. It adds a final layer of elegance and delicacy to your gift. You can use tissue paper to wrap the gift or place it inside gift bags or boxes to protect the item and create a visually pleasing effect.
5. Gift Tags: No gift packaging is complete without a gift tag. Gift tags serve as a finishing touch, allowing you to write a heartfelt message or simply indicate the recipient's name. They come in various shapes, sizes, and materials, from classic paper tags to more elaborate options such as wooden tags or personalized metal charms.
6. Ribbons and Bows: Ribbons and bows are the ultimate crowd-pleasers when it comes to gift packaging. They add a touch of elegance and whimsy to any gift. Whether you opt for a classic satin ribbon, a metallic bow, or a trendy fabric ribbon, these accessories can turn any ordinary gift into a stunning one.
7. Gift Card Holders: If you're giving a gift card, why not make the packaging just as exciting as the gift itself? Gift card holders are available in various designs, from sleek and minimalist to fun and festive. They not only enhance the overall presentation but also keep the gift card secure and protected.
In conclusion, versatile gift packaging items are essential for creating memorable and captivating gifts. Whether you prefer classic options like gift boxes and wrapping paper or enjoy more creative approaches such as personalized gift tags and ribbons, there are endless possibilities to make your presents shine. Investing in quality gift packaging items will undoubtedly impress your loved ones and make every occasion even more memorable.